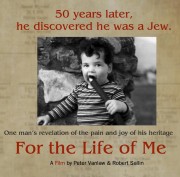 A documentary that is the true story of a man who in his 50's discover that he's a JEW, resulting in dramatic revelations, leading us through some of the 20th century's most profound and cataclysmic events.
Studio City, CA , July 7, 2015 (Newswire.com) - ​​​​​​​At age 50 Peter Vanlaw suffered a heart attack. During his recovery, his visiting mother suddenly began shouting and crying, "It's all my fault, it's all my fault", creating such a disturbance that she had to be physically removed from his CCU. But her bizarre behavior touched off a chain of events that led to the life altering discovery that Peter's family was Jewish - a secret that had been hidden from him for most of his life.
The only child of German immigrants, Peter grew up in the San Fernando Valley, married, his college sweetheart and became a successful TV commercial producer. "My parents rarely discussed their past lives with me and weren't particularly religious", Vanlaw said. "But my mother suffered from mental illness, ever since she was institutionalized during WWII, and never fully recovered."
I loved this film and am eager for it to reach larger audiences. It's truly a miraculous story of discovery and healing. It made me aware of the tendency of families to protect their secrets and the importance of uncovering and sharing them.

Julie Cobb, Entertainment Professional
But only after the death of his parents, when Peter discovered a treasure trove of family photos and 16mm film, did he become driven to uncover the identities and the histories of the relatives he never knew, and to unravel the mysteries of his family going back to the beginning of the 20th century. These are some of the incredible stories that have grown out of it:
His grandmother kills herself days after Hitler becomes chancellor. The blame, foisted on his mother for that suicide, leads ultimately to her insanity. His uncle flees to Amsterdam in search of safety, only to find death at the hands of the Nazis on the infamous "Lost Transport". His aunt, a successful German actress, until she has to flee from the Nazis to Asia, becomes a British spy, setting off a series of escapes from China to East Germany and more. - the effects of family secrets, suicides, foreign intrigue and a spirit of survival are told in away no Hollywood could depict.
Peter has compiled these life-altering events into his compelling documentary, "For The Life Of Me". Currently a :50 min "rough cut" of "For The Life Of Me" has already been shown in a number of private screenings at cultural centers and schools. The reception has been astounding across the board.
But Peter is now faced with a dilemma. "We can't show the film in public until we get the proper licenses for the stock photos, film clips and music that we've used", he said, "And we have to raise the money to do that. Then we'll have a real historical film that can be used to educate a generation that wasn't around when these events happened." Currently there's a fundraising campaign on Indiegogo where you can see the trailer.
Share: